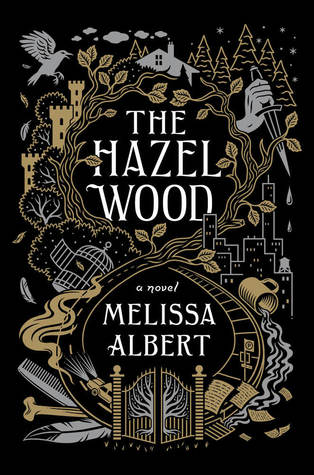 *I received this book through netgalley in exchange for an honest review.*
Description
Seventeen-year-old Alice and her mother have spent most of Alice's life on the road, always a step ahead of the uncanny bad luck biting at their heels. But when Alice's grandmother, the reclusive author of a cult-classic book of pitch-dark fairy tales, dies alone on her estate, the Hazel Wood, Alice learns how bad her luck can really get: Her mother is stolen away―by a figure who claims to come from the Hinterland, the cruel supernatural world where her grandmother's stories are set. Alice's only lead is the message her mother left behind: "Stay away from the Hazel Wood."
Alice has long steered clear of her grandmother's cultish fans. But now she has no choice but to ally with classmate Ellery Finch, a Hinterland superfan who may have his own reasons for wanting to help her. To retrieve her mother, Alice must venture first to the Hazel Wood, then into the world where her grandmother's tales began―and where she might find out how her own story went so wrong.
What I Liked
First off I will say that The Hazel Wood is nothing like I have read previously. I was expecting a generic fairytale laced story turned evil, but I got something different…better. I will add that the fairy tale aspect does not overly come out to play right away. I know for some people who have read the description are under the impression this will happen, but I enjoyed the slow build. For me this made the story better. The way the story was structure I was waiting for it, waiting for those who live at The Hazel Wood to strike. The suspense I felt throughout this book was immense.
Another thing I enjoyed were the characters and their relationships. I felt like the characters stayed true to themselves even when the plot took twists and turn down the rabbit hole. When I was surprised by their actions or their reactions, it still felt like something the character would do. I also enjoyed the relationships and dynamics between Alice, her mother, Finch, and many more characters  I don't want to spoil. The relationships felt real because they showed their faults and everything wasn't perfect. I find that sometimes relationships are not realistic in books because they are just so perfect. But this book showed dynamic relationships, both over all positive ones and negative ones. I will admit I found myself hating a particular character and I was not expecting myself to feel that strongly.
Lastly, Writing was beautiful – I could picture everything. I could picture Alice riding in cars, sleeping in motels and bedroom. I could see The Hazel Wood and all the normal and magical twisted places she visits. Her writing was laced with imagery and it worked very well. A nice little bonus is that Melissa Albert makes references to many literary works, both modern and classic works. I appreciated each ones of these from Harry Potter to Wilkie Collins.
What I Didn't Like
One of the negatives of this book was there were a few times I felt that things were a little to easy, but I felt it did not take away from the story in any way. This was the only fault I found and as you can see, it is a pretty minor one.
Overall Thoughts
This was one of my favorite fairytale inspired stories. I ended up staying up past midnight to finish it and I have not done that in a long time. The writing was beautiful, the build up was perfect, and the characters and dynamics were done very well. If you are even slightly interested in this book I suggest you pick it up either from the store or your local library once it comes out. I would be surprised if you ended up disappointed.
---
I loved this book so much I actually made my first aesthetic for a book.
---
Book Information
Publisher: Flatiron Books
Publication Date: January 30th 2018
List Price: $16.99
ISBN: 9781250147905
Pages: 368
---
*I received this book through netgalley in exchange for an honest review.*