This month I am overly excited about four awesome books. I have a mixture of young adult contemporary, LGBTQ+ anthology, historical fiction, and women fiction. I cannot wait to share them all with you.
Release Date: February 27th , 2018
At fifty-three, Maggie Harris has a good marriage and two mostly happy children. Perpetually anxious, she's also accumulated a list of semi-reasonable fears: falling air conditioners, the IRS, identity theft, skydiving, and airbag recalls. But never once did Maggie worry that her husband of nearly thirty years would leave her.

On the day Adam walks out the door, everything that makes Maggie secure goes with him. Only then does she realize that while she's been busy caring for everyone else, she's become invisible to the world—and to herself.

Maggie cautiously begins to rebuild her life with a trip to Rome, a new career, and even a rebound romance. But when a fresh crisis strikes and an uncertain future looms, she must decide: How much will she risk to remain the woman she's just become?
Release Date: February  13th, 2018
London, summer 1763.

At nineteen, Anne Jaccob is awakened to the possibility of joy when she meets Fub, the butcher's apprentice, and begins to imagine a life of passion with him. The only daughter of well-to-do parents, Anne lives a sheltered life. Her home is a miserable place. Though her family want for nothing, her father is uncaring, her mother is ailing, and the baby brother who taught her to love is dead.

Unfortunately her parents have already chosen a more suitable husband for her than Fub. But Anne is a determined young woman, with an idiosyncratic moral compass. In the matter of pursuing her own happiness, she shows no fear or hesitation. Even if it means getting a little blood on her hands.

A vivid and surprising tale, The Butcher's Hook brims with the color and atmosphere of Georgian London, as seen through the eyes of a strange and memorable young woman.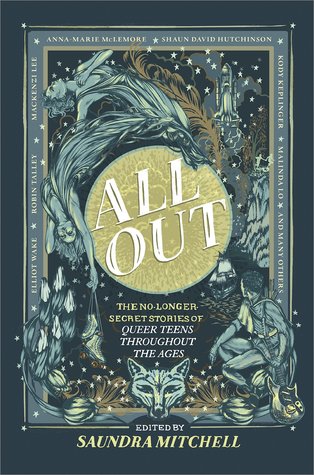 Release Date: February  27th, 2018
Take a journey through time and genres and discover a past where queer figures live, love and shape the world around them. Seventeen of the best young adult authors across the queer spectrum have come together to create a collection of beautifully written diverse historical fiction for teens.

From a retelling of Little Red Riding Hood set in war-torn 1870s Mexico featuring a transgender soldier, to two girls falling in love while mourning the death of Kurt Cobain, forbidden love in a sixteenth-century Spanish convent or an asexual girl discovering her identity amid the 1970s roller-disco scene, All Out tells a diverse range of stories across cultures, time periods and identities, shedding light on an area of history often ignored or forgotten.
Release Date: February  13th, 2018
Seventeen-year-old Hazel Clarke is no stranger to heartbreaks, and being sent to live with a father she's never met is the latest in a string of them. Even the beauty of eastern Australia isn't enough to take her mind off her mother and the life she had to leave behind in England. But when Hazel meets the friendly, kindhearted Red and his elusive twin, Luca, she begins the slow process of piecing together a new life—and realizes she isn't the only one struggling with loss. As friendships deepen and love finds its way in, Hazel also learns that when you truly love someone, they are always in your heart.

This sparkling debut novel is a touching testament to coming of age, falling in love, and finding home in unexpected places.
---
What books are you looking forward to this month?