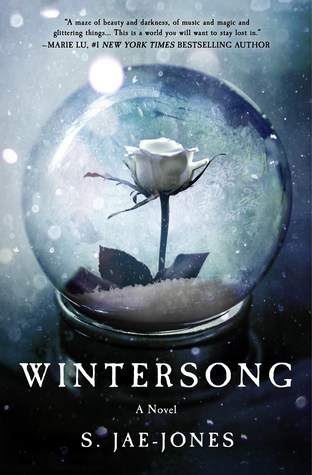 * I received this book from the publisher via Netgalley in exchange for an honest review.
Description
Beware the goblin men and the wares they sell.

All her life, nineteen-year-old Liesl has heard tales of the beautiful, mysterious Goblin King. He is the Lord of Mischief, the Ruler Underground, and the muse around which her music is composed. Yet, as Liesl helps shoulder the burden of running her family's inn, her dreams of composition and childish fancies about the Goblin King must be set aside in favor of more practical concerns.

But when her sister Käthe is taken by the goblins, Liesl journeys to their realm to rescue her sister and return her to the world above. The Goblin King agrees to let Käthe go—for a price. The life of a maiden must be given to the land, in accordance with the old laws. A life for a life, he says. Without sacrifice, nothing good can grow. Without death, there can be no rebirth. In exchange for her sister's freedom, Liesl offers her hand in marriage to the Goblin King. He accepts.

Down in the Underground, Liesl discovers that the Goblin King still inspires her—musically, physically, emotionally. Yet even as her talent blossoms, Liesl's life is slowly fading away, the price she paid for becoming the Goblin King's bride. As the two of them grow closer, they must learn just what it is they are each willing to sacrifice: her life, her music, or the end of the world.
What I Liked 
This book just felt like I was reading magic. As soon as I opened up my ebook I was sucked into the book and I could not put it down. I think I read this in a total of only 3 sittings. The main reason behind it was due to the characters. I really enjoyed Liesl and as the book went on I liked her even more. She was real because she had her faults. I hate when a character is just too perfect, it makes the story seem so fake. Another reason was the descriptions, S. Jae Jones paints the settings so well. I could close my eyes and feel like I could see everything. This book just swallowed me whole, it invoked real emotions from me and broke my heart. While I would love to keep gushing, I am a bit afraid I would end up spoiling some things for you. Bottom line is, the characters are well written and the world is vivid and beautiful.
What I Didn't Like
The one thing that was a problem only some of the time was the pacing. At times it did feel slow, but this was not a constant issue in the plot. Even though it is not a constant, it is worth noting before jumping into this book.
Overall Thoughts
I ended up very much enjoying this book. I plan on eventually picking up the next book in the series. It delivered on is promise of adventure, brave young women, and a lot of heartache. Between her feelings for her sister and what she needs goes through as she goblin realm there is a lot going on in this book. Overall if you enjoy retellings and fantasy, this book is for you. 
Book Information
Publisher: Thomas Dunne Books
Publication Date: February 7th 2017
List Price: $18.99
ISBN: 9781250079213
Pages: 436 pages

I want to note that I received this book from Netgalley for this review. My review is honest and all thoughts are my own.