Happy April everyone! This month I think I am going to be reading a lot. I am not sure if it is because I read so much in March, but I just have a good feeling about April. This month I am buddy reading two different books, one a non-fiction and the other a thriller. I am also finishing up a non-fiction and a starting a fantasy series. I also am taking part in the Magical Readathon: OWLs Exams. I made a separate TBR a few days ago and explained the readathon a little bit as well. You can find that here: TBR | Magical Readathon OWLs Exams.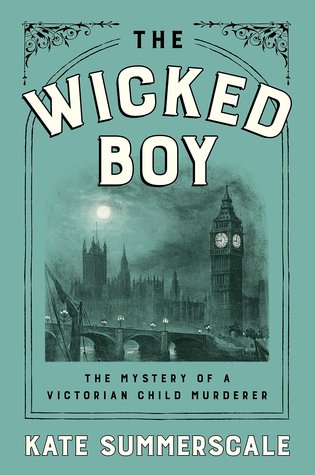 This month I will finish  reading The Wicked Boy with Amy from Tomes with Tea, Regina from Bookish in Bed and  Jenna from J.K. I'm Exploring!
Early in the morning of Monday 8 July 1895, thirteen-year-old Robert Coombes and his twelve-year-old brother Nattie set out from their small, yellow-brick terraced house in East London to watch a cricket match at Lord's. Their father had gone to sea the previous Friday, the boys told their neighbours, and their mother was visiting her family in Liverpool. Over the next ten days Robert and Nattie spent extravagantly, pawning their parents' valuables to fund trips to the theatre and the seaside. But as the sun beat down on the Coombes house, a strange smell began to emanate from the building. When the police were finally called to investigate, the discovery they made sent the press into a frenzy of horror and alarm, and Robert and Nattie were swept up in a criminal trial that echoed the outrageous plots of the 'penny dreadful' novels that Robert loved to read. In The Wicked Boy, Kate Summerscale has uncovered a fascinating true story of murder and morality – it is not just a meticulous examination of a shocking Victorian case, but also a compelling account of its aftermath, and of man's capacity to overcome the past.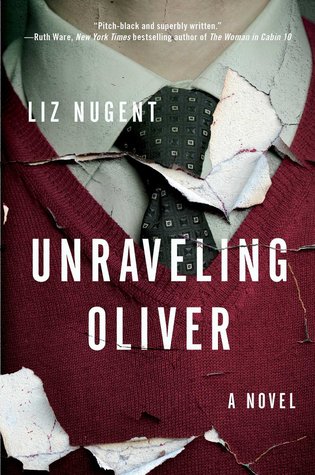 This is another buddy read with Amy from Tomes with Tea, Regina from Bookish in Bed and  Jenna from J.K. I'm Exploring. What can I say, we love reading and discussing books with one another?
I expected more of a reaction the first time I hit her."

So begins Liz Nugent's astonishing debut novel—a chilling, elegantly crafted, and psychologically astute exploration of the nature of evil.

Oliver Ryan, handsome, charismatic, and successful, has long been married to his devoted wife, Alice. Together they write and illustrate award-winning children's books; their life together one of enviable privilege and ease—until, one evening after a delightful dinner, Oliver delivers a blow to Alice that renders her unconscious, and subsequently beats her into a coma.

In the aftermath of such an unthinkable event, as Alice hovers between life and death, the couple's friends, neighbors, and acquaintances try to understand what could have driven Oliver to commit such a horrific act. As his story unfolds, layers are peeled away to reveal a life of shame, envy, deception, and masterful manipulation.

With its alternating points of view and deft prose, Unraveling Oliver is "a page-turning, one-sitting read from a brand new master of psychological suspense" (Sunday Independent) that details how an ordinary man can transform into a sociopath.
I have been interested in starting this series for a long time now and I think it is finally time. I have heard awesome things about this series and what I love most is that these books are so short. They are a great break in-between the larger books I read.
Eleanor West's Home for Wayward Children
No Solicitations
No Visitors
No Quests

Children have always disappeared under the right conditions; slipping through the shadows under a bed or at the back of a wardrobe, tumbling down rabbit holes and into old wells, and emerging somewhere… else.

But magical lands have little need for used-up miracle children.

Nancy tumbled once, but now she's back. The things she's experienced… they change a person. The children under Miss West's care understand all too well. And each of them is seeking a way back to their own fantasy world.

But Nancy's arrival marks a change at the Home. There's a darkness just around each corner, and when tragedy strikes, it's up to Nancy and her new-found schoolmates to get to the heart of the matter.

No matter the cost.
Eleanor Roosevelt: Vol 2, The Defining Years, 1933-38
by

Blanche Wiesen Cook
I started this non-fiction account of Eleanor Roosevelt last month and I would like to finish it this month. This is the second book in a trilogy written by Cook, I am hoping it lives up to the first one. Fingers crossed!
Historians, politicians, feminists, critics, and reviewers everywhere have praised Blanche Wiesen Cook's monumental Eleanor Roosevelt as the definitive portrait of this towering female figure of the twentieth century. Now in her long-awaited, majestic second volume, Cook takes readers through the tumultuous era of the Great Depression, the New Deal, and the gathering storms of World War II, the years of the Roosevelts' greatest challenges and finest achievements. In her remarkably engaging narrative, Cook gives us the complete Eleanor Roosevelt— an adventurous, romantic woman, a devoted wife and mother, and a visionary policymaker and social activist who often took unpopular stands, counter to her husband's policies, especially on issues such as racial justice and women's rights. A biography of scholarship and daring, it is a book for all readers of American history.
What are you reading this month?

Tumblr | Twitter | Instagram | Goodreads