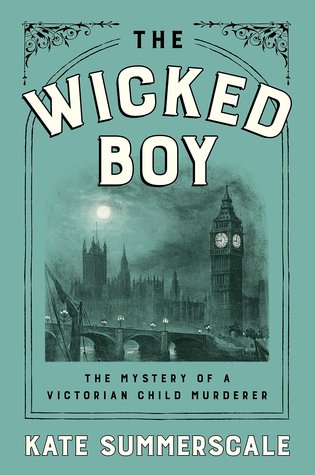 Description
Early in the morning of Monday 8 July 1895, thirteen-year-old Robert Coombes and his twelve-year-old brother Nattie set out from their small, yellow-brick terraced house in East London to watch a cricket match at Lord's. Their father had gone to sea the previous Friday, the boys told their neighbours, and their mother was visiting her family in Liverpool. Over the next ten days Robert and Nattie spent extravagantly, pawning their parents' valuables to fund trips to the theatre and the seaside. But as the sun beat down on the Coombes house, a strange smell began to emanate from the building. When the police were finally called to investigate, the discovery they made sent the press into a frenzy of horror and alarm, and Robert and Nattie were swept up in a criminal trial that echoed the outrageous plots of the 'penny dreadful' novels that Robert loved to read. In The Wicked Boy, Kate Summerscale has uncovered a fascinating true story of murder and morality – it is not just a meticulous examination of a shocking Victorian case, but also a compelling account of its aftermath, and of man's capacity to overcome the past. –goodreads.com
What I Liked
The first thing I noticed while reading this novel is that Kate Summerscale is very thorough. Her knowledge of not just the crime itself, the perpetrator, and his family, but of the town and the time period are easily noticed. She goes into detail of the events of the town and the economic and social conditions that not only put our child murderer and his family in, but may have even contributed to it. Some of the information she shares in this book you know she had to look long and hard for it.
Another things I liked about this book was the content of the book. Now, I enjoy non-fiction very much and enjoy a book mystery. But, this book was different. It deals with the life of a child murderer. Someone who at a very young age decided to kill one of his parents. To me that both intrigues me as well as worries me. A child is meant to me innocent and this action/situation is the farthest things from innocent. Due to this the entire time I read this novel it was both almost morbid, but very thought provoking. It made me think about many topics, but I don't want to list them because that might be considered a spoiler. I rather not spoil this book for anyone.
The last thing that really stood out to me was the ending of this book, it was an unexpected turn I was not expecting. While a majority of this book made me uncomfortable due to the subject the ending made me think even more about human nature and how and if people can change. Many non-fiction authors tend to stop at the "big" event, sometimes that is a disservice. I really appreciated that fact that Summerscale no only covered and researched the murder and trial, but continued and expanded beyond the "main" event.
What I Didn't Like
One thing that can be seen as a negative with this book is that it contains a lot of background information. For some people this can be a downside to the book. I personally did not have a problem with this because I loved learning about the town, culture, and other events happening at the time. But, I recognize that for some this is not what they signed up for when they picked up a book about a child murderer.
Overall Thoughts
Overall, I really enjoyed reading this. I think Summerscale did a wonderful job researching and telling the story of Robert Coombes and his brother. Throughout I was interested and I often found myself thinking about the book once I put it down. For me that makes a good non-fiction read. I would say if you enjoy non-fiction, true crime, or reading about morbid topics this book is for you. I just would keep in mind that you will also be learning about the time period etc., but I feel it is needed to understand the environment the Coombes boys lived in. I ended up giving this story novel 4 stars.
Author Links
http://www.katesummerscale.com
Book Information
Publisher: Penguin Press
Publication Date: July 12th 2016
List Price: $28.00
ISBN:  9781594205781
Pages: 378 pages