Hello everyone. So as of late I have been feeling overwhelmed with the amount of books I own and need to read. I'm not sure why, but I have been starting to feel flustered by them. Now compared to other people my TBR is tiny, but for me I feel it is too many. But, I want to get into a little back story first.
In 2014 I found booktube and fell down a rabbit hole, I honestly felt like Alice when she entered Wonderland. Prior to this I had no idea there was such a huge book community. It was just magical. During that time I ended up getting a ton of books, mostly used and discounted, but still a ton. Even though I read about 100 books that year my TBR was still well over 100 books. Since then I have done various things to try to get it down and keep it down.
The first thing I tried was a book buying ban, for me this worked in the short term, maybe a week or two at most. Then when it was over I would just end up buying even more books. So that didn't really work. Then I did the read 5 buy 1 challenge. This was a bit more doable, but still was difficult to stick to 100% of the time. So I ended up doing it on rotation. One month on and one month off until my TBR was in the 30s. Welcome to modern times!
So my current TBR is at 42. I know, I know that really is not a lot compared to others. For me, it is just too much. My goal for my TBR is around 15. That was I have choices, but not too many. Sometimes, I think having so many options gets in my way. So I am going to do a Try a Chapter, which I have done in the past and enjoyed. Try a Chapter | June 2017 and Try a Chapter | August 2017.
The Books
The Heart's Invisible Furies by John Boyne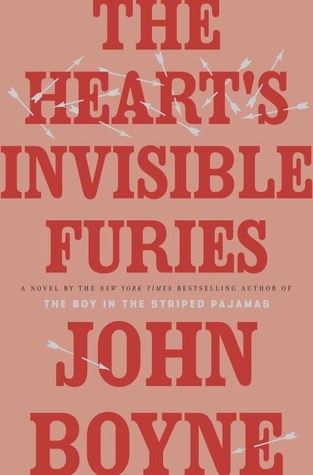 goodreads rating: 4.46
pages: 582
genre: historical fiction
Outcome: I bought this book for 2 reasons. The first being that Joh Boyne wrote The Boy in the Striped Pajamas, if you have not read that book you should. It will break your heart. The second reason is because I found the description interesting. I will admit that this was the most enrolling read out of the bunch. In a mere 10 pages I had to fight with myself to not keep reading. So much had happened and I can tell there is a lot more to come. John Boyne is a gifted writer. I shall be keeping this book on my TBR.
The Name of the Wind by Patrick Rothfuss
goodreads rating: 4.55
pages: 662
genre: fantasy
Outcome: Before getting into the first chapter I was feeling like this was going to be a discard because this is an incomplete series where that author has not released/not written the next book in the last 7 year. Do I really want to start a series that has a high chance of never getting finished? Also, I bought this just because I wanted to buy a book, not a great reason. I read about 19 pages of this and decided it isn't really for me. As of late I have not been into fantasy and it didn't pull me in. So I shall be removing this from my TBR and donating it.
By Gaslight by Steven Price
goodreads rating: 3.6
pages: 752
genre: historical fiction
Outcome: By Gaslight had a very interesting start, I just was not pulled in by it. I think it was due to the formatting. For some reason there are " used when people are talking. It was kind of annoying because at first it took my some time to realize that people were talking aloud and not inside their head anymore. I honestly think this could be a very good book for the right person, sadly that person is not me. I shall be unhauling this book and donating it.
The Muse by Jessie Burton
goodreads rating: 3.85
pages: 416
genre: historical fiction
Outcome: Before even reading the first chapter I will admit I was leaning towards getting rid of this one because I read The Miniaturist not to long ago and it had a strong start for me, but I ended up not really liking it. There was beautiful writing with that one, but I did not like the plot must. When I did read the first chapter I was okay with it until it said, "Stumpy McGee" (p.6), when referring to a women who had the misfortune of loosing part of her foot. While I know characters can be written to be cruel or rude no one corrected this and it irked me. I shall be removing this from my TBR.
So there you have it another try a chapter post. I am honestly surprised I only kept one book because I tend to get pulled into books once I start reading them. Either way my TBR is now 38 and a little closer to my goal.
What do you think about unhauling books? What is your TBR currently?