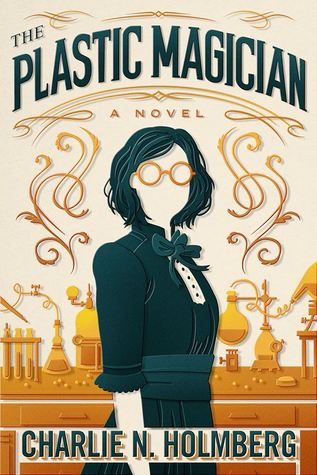 Description
Wall Street Journal bestselling author Charlie N. Holmberg returns to the enchanting world of The Paper Magician.

Alvie Brechenmacher has arrived in London to begin her training in Polymaking—the magical discipline of bespelling plastic. Polymaking is the newest form of magic, and in a field where there is so much left to learn, every Polymaker dreams of making the next big discovery.

Even though she is only an apprentice, Alvie is an inventor at heart, and she is determined to make as many discoveries—in as short a time frame—as she can. Luckily for her, she's studying under the world-renowned magician Marion Praff, who is just as dedicated as Alvie is.

Alvie's enthusiasm reinvigorates her mentor's work, and together they create a device that could forever change Polymaking—and the world. But when a rival learns of their plans, he conspires to steal their invention and take the credit for it himself.

To thwart him, Alvie will need to think one step ahead. For in the high-stakes world of magical discovery, not everyone plays fair… -goodreads.com
Before I get into the nitty-gritty of this review I would like to point out that this book is a spin-off of another series. The series is called The Paper Magician Series. Since it is a spin off you can read it without reading the others, but you might miss out on a few things.
What I Liked
This book was enthralling, I could not put it down. I remember very vividly that when I first picked this book up I read for a few hours without even trying. For some reason reading for hours on end is starting to become difficult, I am not sure why. Anyway, I was very much pulled into this world. Charlie N. Holmberg does a wonderful job of creating and sculpting this world and her characters. While the world is well established in her previous books, this spin off does not leave you in a spot where you don't understand the world around the characters, another bonus. Her world and her magic are refreshing and different.
One things I really liked about the main character was that she was not impulsive or quick to action. I felt like the character thought about what she did. For me, I love that in books. I often find myself put off by characters who just mindlessly jump into action and only seem to pull off things due to luck. So this was a very refreshing thing to have thoughtfulness as a trait in a lead character.
What I Didn't Like
The one thing that got me was that I want not really surprised by anything in this book. While I did very much enjoy the story and characters I never had the moment where I said to myself, "NO WAY!" It was predictable. But, this can also be a plus for some. Some people why don't like surprises or enjoy when they are right when predicting an outcomes to a book or a plot twist. This is very much a readers preference and does not make the story itself less enjoyable. Even though I was able to predict a few things it did not in anyway make me not enjoy the ride. In fact, I really enjoyed it regardless.
Overall Thoughts
I would say that this book is unique, it has a great with a magic system that for me was very different from books I have previously read. It was a fun book filled with adventure, relationships, magic and bonus had a great main character that I felt like I could relate to on some level. I would say that if you find the description or any of the things I said interesting you should give this book a read.
Author Links
hhttp://www.CharlieNHolmberg.com
Twitter: @CNHolmberg
Facebook: https://www.facebook.com/cnholmberg/
Instagram: cnholmberg
Book Information
Publisher: 47North
Publication Date: May 15th 2018
List Price: $14.95
ISBN: 9781542047913
Pages: 236 pages

* I received this book from the publisher via Netgalley in exchange for an honest review.