I have been seeing this tag everywhere and my shelves are currently at full capacity so I thought it would be a great time to complete this tag. This was created by BooksandLala over on youtube, her channel is amazing! At the end of this post I will share her video with you incase you would like to watch for yourself. This tag has 10 prompts, for each prompt you have to get rid of at least one book. So in theory I should have space for ten  more books on my shelf when this is all done.
a book you rated low 
The Red Pony by John Steinbeck
I just didn't really like it, I felt it was boring and even though it was only 100 pages it seemed to drag, a lot.
a book you changed your mind about 
The Female Persuasion by Meg Wolitzer
This was the first book that came into my head and it did not take long. The more and more I think about this book the less I like it. It seems very generic and is a story I have read a few times. So, I am unhauling it.
a series you won't be completing 
The Bone Season by Samantha Shannon
This was a very hard one to admit. I really enjoyed book 1-3 of this series. But, it is time to admit to myself that I am not going to continue on with this series. I am no longer interested in stories like these. I am unhauling books 1 and 2, but I am keeping book 3 since it is a signed edition and I want to keep it for memories.
a book you DNF'd (did not finish) 
The Pisces by Melissa Broder
I read 3 pages and decided I didn't really want to read this.
a book you have multiple copies of 
The only multiple copies of a book I have are old editions of Little Women by Louisa May Alcott and I am NOT getting rid of those. I mean look at the picture, you cannot tell me that is not an adorable picture and an adorable family!
a book you'll never actually get to 
West by Carys Davies
I got this as a blind date with a book from my local bookstore. It sounds interesting, but I know I will not get around to it any time soon.
a book you bought because of the hype 
The Nest by Cynthia D'Aparix Sweeney
This book is very hyped up over the years, I picked this up because of a book club which kinda fell through due to my schedule and honestly I don't see myself reading this on my own.
a book you bought because of the cover 
The Wicked Boy by Kate Summerscale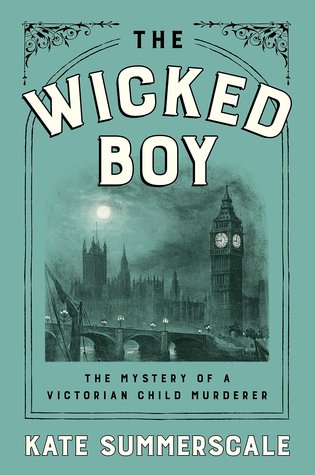 This was a total cover buy for me. It is beautiful. Oddly, this prompt was one of the hardest because I never really cover buy all that often. But, it was a cover buy. I read it earlier this year and I enjoyed it. But, it is one of those books you can only read once. I did a review for this book, you can read that here:  REVIEW | The Wicked Boy by Kate Summerscale
a book you don't know anything about 
Never Caught by Erica Armstrong Dunbar
This was a completely random pick up in the history section in my bookstore. I ended up really enjoy  it, which is a total win. The only reason I am unhauling this book is because I want to pass it around to my friends and tell them to give it to someone else after they have finished reading it. Maybe that isn't really an unhaul? I don't know. Anyway this was great and I am sad to see it go, but happy to pass it along.
a book you didn't buy
My Lady's Choosing by Kitty Curran & Larisa Zageris
I got this for my birthday as a joke from my friend. I realized that I read it once and I would never really pick it up again. I am thinking about wrapping it up as a present for her to see what story she chooses and have a little bit of fun with her. So here is a fun book to unhaul! 
So those are the books I deiced to unhaul for this challenge. Some of these were very easy to get rid of while others were a bit harder to part with. I think the easiest one to unhaul is The West, due to it being a blind date with a book. I never actually picked it even though I bought it. The hardest book to unhaul was The Bone Season. It was hard to admit to myself that I really was not going to finish the series and acknowledge that my reading tastes have changed so dramatically.
I think my two favorite books to unhaul are My Lady's Choosing and Never Caught. Mainly because I get to pass the books around and share them with others. My Lady's Choosing is a perfect joke gift for my friend. Then on the other hand Never Caught was so good that I want to share it with a bunch of people. I kinda want everyone who has read it to sign it so the last person to get it gets to see the names of everyone.
Anyway, thanks for reading. I hope you have an awesome day.
P.S. Lala's video is below if you want to read it and the question of the post.
What's the last book you unhauled?