Hello, I am here with a way overdue tag. I was tagged by the amazing Misty over at Misty's Book Space to do the What's in My Bookshelf tag. As soon as I saw her post I was so excited to be tagged for it. I love learning about the bookshelves of others and sharing information on my ever changing shelves.
The Rules
Link back to me so I can see everyone's answers! (Naty's Bookshelf)
Also link back to the person who tagged you!
Name one book for each category; try not to repeat books to make this more fun!
Tag at least 5 people
A Library Book
I currently have two books from the library, I have American Values: Lessons I Learned from My Family by Robert F. Kennedy Jr. and Songs of Achilles by Madeline Miller.
A Book You Got As a Gift
Over the years I have gotten many editions of Little Women by Louisa May Alcott, which is my favorite book of all time. P.S. you may not realize that this book is actually a series.
A Childhood Book
 The first book to pop into my head when I think about my childhood is
Amelia Bedelia
by 
Peggy Parish and Fritz Siebel. These were my absolute favorite books as a small child.
A Magical Book
Harry Potter, the entire series. It is magical, do I really need to say more? I am picturing my favorite of the series. If you want to know my ranking order please see my post Tag | Ranking Harry Potter Books & Characters.
A Romantic Book
The first "romantic" book I saw on the shelf is The Seafarer's Kissby Julia Ember. It a wonderful F/F retelling of The Little Mermaid, apparently there is a second one coming out that I am very excited about.
A Steamy Book
I have none, sorry. I don't often read classic "romance" or "steamy" books anymore. If you asked this question 5 years ago I would have a list read for you.
An Old Book
The oldest book I own is A Study in Scarlet by Arthur Conan Doyle. I cannot find my edition on goodreads, so I linked to a different edition. Here is a picture I took of it over on instagram nearly a year ago.
A Book That Makes You Happy and/or Laugh
The funniest book I own is Herding Cats by Sarah Andersen. It is hilarious and I actually made an entire review on it. REVIEW | Herding Cats by Sarah Andersen.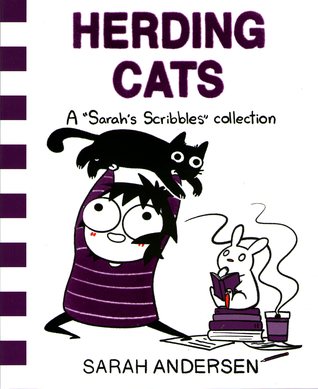 A Book That Makes You Emotional
Even though this is non-fiction The Witches by Stacy Schiff, what that town went though and the story of the individuals that should not have lost their lives. It was heart breaking, it made me very angry. One of the best non-fictions books I have ever read.
A Book Whose Ending You Dislike
I got rid of every book I did not like the ending of, so there are none of my shelf. I think the one that I can remember was the second book in the Lara Jean Duology, I was not happy with who she ended up with.
A Book You Wish Had Illustrations
Honestly, I wish all books were required to have some images in them that were approved by the author. That was I can really see what the author envisioned. I think that would be fun, but if I had to pick one I would go with Lying in Wait by Liz Nugent. It is no shock that I love her writing and I would love to see how she pictured each of the narrators. If you wanna see all my thoughts on this book you can see my review, REVIEW | Lying in Wait by Liz Nugent.
A Book or Genre That You Love Reading When It's Raining
Any book is perfect for a rainy day! But, once again if I had to pick one genre for a rainy day it would have to be a thriller. I mean, creepy weather mixed with a suspense filled read would be perfect!
I Tag