So, I recently realized I have a ton of enamel pins, but they are all sitting in the bottom of a drawer or in a cup of some sort. I love pins and have since I was young. I started my collection when I was in 3rd grade…. so it has been a LONG time. I personally really enjoy collecting them because they are small and compact since I don't have a ton of space. But, at this point I hide them away. I would prefer to display them and have the ability to look at them.
The main reason I would love to look at them is because I only buy them when I am visiting a new place or on a special occasion. I would love to be able to walk into my space and look at the happy memories. So, I went to google and typed in "Enamel Pin Display" and found the following inspiration.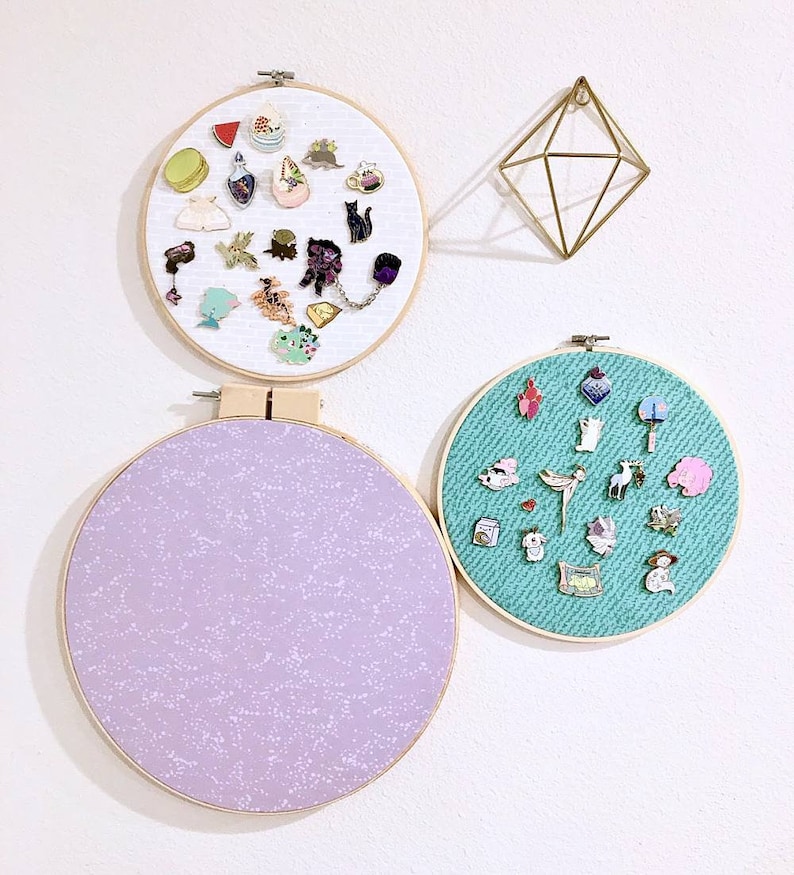 This turns out to be from the Etsy shop PinnyslugDesign. So, if this DIY does not workout for me, I will be buying them. But, I am hoping it does work out because I can actually say I have everything I need think I need to make these myself! How often does that actually happen?
Materials needed
Embroidery Hoop
Fabric
Exacto knife
Optional
---
Progression Images
I am so happy with how these come out. I ended up leaving the ends raw until I fill them up until I am satisfied. When I have all the pins I want on them I am going to sew the edges in with some embroidery floss that I have laying around as well as put some glue around the edges so they don't shift to much when I sew them.
I love how simple and cute these are and how I can easily add different sized hoops as my collection grows. I also don't have to worry about finding the exact same frame or whatever. Raw hoops are always around and don't really ever change.
How do you think I did recreating this DIY?