* I received this book from publisher via netgalley for free in exchange for an honest review.*  
Description:
Anne Frank was an ordinary girl living in extraordinary times. Forced to go into hiding to escape the Nazis' persecution of Jews in World War II, Anne kept a diary that would become one of the most famous books in the world.

Meet one of history's most inspiring figures in this beautifully-illustrated guide to her amazing life.

From artists to aviators and scientists to revolutionaries, Little Guides to Great Lives is a brand new series of small-format guides introducing children to the most inspirational figures from history in a fun, accessible way.
What I Liked
First off I have to say that the story of Anne Frank and the holocaust as a whole is not an easy topic no matter how you look at it. But, these are both important stories that need to be shared. I read this book two times before writing this review, for a few reasons.
The firs being that this author did a wonderful job telling this story. It is done in such a way that it does not hide the truth, but gently explains what happened to Anne Frank and others who were victimized during WWII. It explained the steps leading up to the labor and concentration camps in a factual way, but in a very respectful manner. I have to say that this is one of the most gentle, but truthful children's book I have read on the topic personally.
The second reason I read this multiple times was the art style and illustrations that are present throughout. While I hate to say that this story is beautiful, because it is so heart breaking, this book is beautiful and is a work of art.
Another thing I loved about this book was that it just did not tell the story of Anne Frank, but it was so much more. It talked about the global economy and the rise of the Nazi to give the story context. There was also a lot of helpful information such as key character descriptions, timelines, and a glossary to aid young readers in learning and making sense  of the complex story. But, the best thing they had in there was further reading. You can tell the author cares about the topic and is passionate about learning when they share where readers can learn more.
---
What I Didn't Like
Honestly, there is nothing bad I can say about this book. It was well structured, it covered a difficult topic in a very accessible way to children.
---
Overall Thoughts
Overall I really enjoyed reading this, even though I am not a child I found it to be informative and interested without being overwhelming. This is a great way to expose young children the the holocaust and the story of Anne Frank without being overwhelming in my opinion.  I even bought a copy for a friend of mine for her to read to her children.
Author Links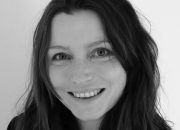 Book Information
Publication Date: April 23rd 2019
Publisher: Laurence King Publishing
List Price: $11.99
ISBN: 9781786273987
Pages: 64 pages