So last month I posted Haul | Boyfriend Picks My Books which was a ton of fun. I thought it would be fun to continue having other people pick out my books. This month I decided to go to my local independent bookstore and see if I could ask someone to pick out a few books for me to add to my TBR. Without further ado, here is what happened!
So I ended up going on a nice Saturday morning before I had to do anything. I stopped a little coffee shop and got a nice iced mocha, a recent favorite of mine. I walked the few blocks to my local bookstore.
Now with my previous _____ Picks My Books it was my boyfriend. I was comfortable enough to give him rules. I was about to walk up to a stranger and ask them to help me, I couldn't give them rules. To me doing this sounded rude so I decided to ask them if they could recommend two of their favorite books.
Now, I will admit I am very shy person. I tend to get other people to ask questions for me when it is appropriate or put in a takeout order for me. So me going up to a stranger and asking them to do this was a big deal. I ended up taking a large sip of my drink and opening the door, causing the bell dinging away. I was greeted right away and ended up loosing my nerve.
I ended up looking up and down the shelves for about 15 min. before the nicest woman in the world came up and asked me if she could help me. I ended up finally asking, "Actually, would you be able to recommend two books that you really liked?" Without any delay she smiled and said she had just the thing. She went to the back of the store and pulled out two books. I bought them without hesitation, as she checked me out she gushed about both of them and gave me mini reviews.

The Books 
She ended up giving me Everything, Everything by Nicola Yoon and The Pillars of the Earth by Ken Follett. Everything, Everything I have heard so much about in the past. I have heard both good and bad things, so I am curious what I will end up thinking. The Second pick I never heard of and I kind of like that. What I think is best about this "series" is that it is getting me a bit out of my comfort zone. When I read the description when I got home I was intrigued and I will admit I put a hold on the audiobook at my local library since it is so long.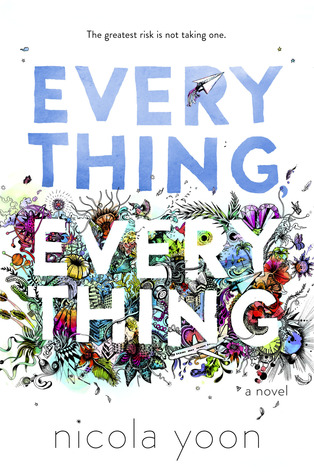 My disease is as rare as it is famous. Basically, I'm allergic to the world. I don't leave my house, have not left my house in seventeen years. The only people I ever see are my mom and my nurse, Carla.

But then one day, a moving truck arrives next door. I look out my window, and I see him. He's tall, lean and wearing all black—black T-shirt, black jeans, black sneakers, and a black knit cap that covers his hair completely. He catches me looking and stares at me. I stare right back. His name is Olly.

Maybe we can't predict the future, but we can predict some things. For example, I am certainly going to fall in love with Olly. It's almost certainly going to be a disaster.

goodreads.com
Everything readers expect from Follett is here: intrigue, fast-paced action, and passionate romance. But what makes The Pillars of the Earth extraordinary is the time the twelfth century; the place feudal England; and the subject the building of a glorious cathedral. Follett has re-created the crude, flamboyant England of the Middle Ages in every detail. The vast forests, the walled towns, the castles, and the monasteries become a familiar landscape. Against this richly imagined and intricately interwoven backdrop, filled with the ravages of war and the rhythms of daily life, the master storyteller draws the reader irresistibly into the intertwined lives of his characters into their dreams, their labors, and their loves: Tom, the master builder; Aliena, the ravishingly beautiful noblewoman; Philip, the prior of Kingsbridge; Jack, the artist in stone; and Ellen, the woman of the forest who casts a terrifying curse. From humble stonemason to imperious monarch, each character is brought vividly to life.

The building of the cathedral, with the almost eerie artistry of the unschooled stonemasons, is the center of the drama. Around the site of the construction, Follett weaves a story of betrayal, revenge, and love, which begins with the public hanging of an innocent man and ends with the humiliation of a king.

goodreads.com
Have you read either of these books? What did you think of them?