The BookTube-A-Thon is a yearly week long reading marathon hosted by Ariel Bissett. Each year there are reading challenges, video challenges, reading sprints via twitter, and there is also a book depository link and coupon code you can use to buy some great reads. This year it is from July 24th – 30th. It starts midnight your time. I did this last year and really enjoyed it.  Without further ado, here are the 2017 reading challenges.
The 2017 Reading Challenges
1/ Read a book with a person on the cover.
Call Me By Your Name by André Aciman
What grows from the depths of their spirits is a romance of scarcely six weeks' duration and an experience that marks them for a lifetime. For what the two discover on the Riviera and during a sultry evening in Rome is the one thing both already fear they may never truly find again: total intimacy.
2/ Read a hyped book.
Mad Miss Mimic
by Sarah Henstra. A while ago I heard this name all over booktube so I do hope I enjoy it and it is not over hyped.
Born into an affluent family, Leo outwardly seems like a typical daughter of English privilege in the 1870s: she lives with her wealthy married sister Christabel, and lacks for neither dresses nor trinkets. But Leo has a crippling speech impediment that makes it difficult for her to speak but curiously allows her to mimic other people's voices flawlessly. Servants and ladies alike call her "Mad Miss Mimic" behind her back…
3/ Finish a book in one day.
Using any of the books I mention in this post.
4/ Read about a character that is very different from you.
The Gentleman's Guide to Vice and Virtue by Mackenzi Lee. Myself and the main character, Henry "Monty" Montaque, do not have very much in common.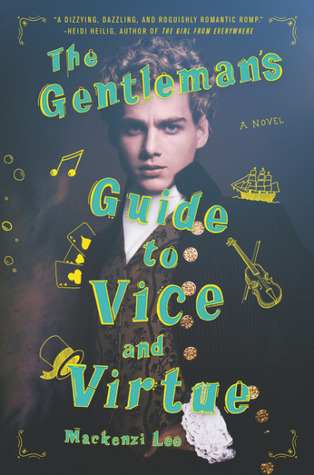 Henry "Monty" Montague was born and bred to be a gentleman, but he was never one to be tamed. The finest boarding schools in England and the constant disapproval of his father haven't been able to curb any of his roguish passions—not for gambling halls, late nights spent with a bottle of spirits, or waking up in the arms of women or men.

But as Monty embarks on his Grand Tour of Europe, his quest for a life filled with pleasure and vice is in danger of coming to an end. Not only does his father expect him to take over the family's estate upon his return, but Monty is also nursing an impossible crush on his best friend and traveling companion, Percy.
5/ Finish a book completely outdoors.
Using any of the books I mention in this post.
6/ Read a book you bought because of the cover.
Wicked Like a Wildfire by Lana Popović. The cover of this book drew me to it right away, but once I read the description I knew I needed to have it.
All the women in Iris and Malina's family have the unique magical ability or "gleam" to manipulate beauty. Iris sees flowers as fractals and turns her kaleidoscope visions into glasswork, while Malina interprets moods as music. But their mother has strict rules to keep their gifts a secret, even in their secluded sea-side town. Iris and Malina are not allowed to share their magic with anyone, and above all, they are forbidden from falling in love.
7/ Read seven books.
Hehe… we shall see about this one.
So those are the four books I plan on reading this year for the BookTube-A-Thon. I also wanted to share the official announcement for this years booktubeathon. This is where you can find the most information as well as that link and code to book depository.
---
Are you going to participate in this years BookTube-A-Thon?