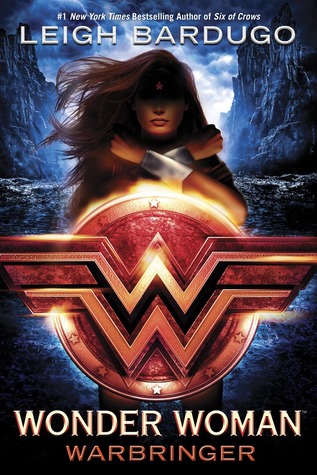 Description
Daughter of immortals.

Princess Diana longs to prove herself to her legendary warrior sisters. But when the opportunity finally comes, she throws away her chance at glory and breaks Amazon law—risking exile—to save a mortal. Diana will soon learn that she has rescued no ordinary girl, and that with this single brave act, she may have doomed the world.

Daughter of death.

Alia Keralis just wanted to escape her overprotective brother with a semester at sea. She doesn't know she is being hunted by people who think her very existence could spark a world war. When a bomb detonates aboard her ship, Alia is rescued by a mysterious girl of extraordinary strength and forced to confront a horrible truth: Alia is a Warbringer—a direct descendant of the infamous Helen of Troy, fated to bring about an age of bloodshed and misery.

Together.

Two girls will face an army of enemies—mortal and divine—determined to either destroy or possess the Warbringer. Tested beyond the bounds of their abilities, Diana and Alia must find a way to unleash hidden strengths and forge an unlikely alliance. Because if they have any hope of saving both their worlds, they will have to stand side by side against the tide of war.
What I Liked
I have been reading Wonder Woman comics since I was a young girl. I vividly remember having a very large bind-up of "The Best of Wonder Woman" or something very similar to this and running to my basement to look at this strong woman standing up for what is right. Most of readings have revolved around Diana being older and had already left her home so it was wonderful to see her as a young teenager. While she was shown in this different way, she kept her personality and her resolve.
I also enjoyed the characters Leigh Bardugo created. While Diana is a powerful and awe inspiring character I loved that she made just as strong and wonderful characters that Diana travels with. Now, I have to say that when I was reading this story I came across these illustrations.  I really encourage you to check them out, they really shows how awesome and unique each one of them is. I found myself connecting with them and feeling like I was just another friend in their group, which I personally find difficult.
Last, but not least this book was nearly impossible to put down. I was buddy reading this book with my friends Amy and Lia, you should really check them out, and all three of us ended up finishing the book way ahead of schedule. I had to force myself to put this book down and go to bed I was so involved in it.
What I Didn't Like
One thing I did not like was that some of the actions taken by a particular individual, if you read the book you should know who I am talking about, made no sense and seemed to kinda come from no where. While I can find a reason for their actions, it seems pretty far fetched.
Overall Thoughts
This was a very fun and fast paced read. I think it is well worth picking up from your local library or from the bookstore. The characters are fun, you get to dive a little bit into greek mythology, and you get to go on an epic adventure. I don't know about you, but I read to learn something new or go on adventures to far off lands. Leigh Bardugo's Wonder Woman: Warbringer was nothing short of an adventure.
---
Book Information
Publisher: Random House Children's Books
Publication Date: August 28th 2017
List Price: $18.99 (Amazon.com)
ISBN: 978-0399549731
Pages: 384 pages
---