So, for May, I have a lot of books I am looking forward too. So I am not going to make this introduction very long. There are going to be 6 books I am looking forwards to being released this month and they range in genre with both adult and young adult novels.
Release Date: May 15th
Carl Louis Feldman is an old man who was once a celebrated photographer. That was before he was tried for the murder of a young woman and acquitted. before his admission to a care home for dementia. Now his daughter has come to see him, to take him on a trip. Only she's not his daughter and, if she has her way, he's not coming back . . .

Because Carl's past has finally caught up with him. The young woman driving the car is convinced her passenger is guilty, and that he's killed, other young women. Including her sister Rachel. Now they're following the trail of his photographs, his clues, his alleged crimes. To see if he remembers any of it. Confesses to any of it. To discover what really happened to Rachel. Has Carl truly forgotten what he did or is he just pretending? Perhaps he's guilty of nothing and she's the liar. Either way in driving him into the Texan wilderness she's taking a terrible risk. For if Carl really is a serial killer, she's alone in the most dangerous place of all . . . -goodreads.com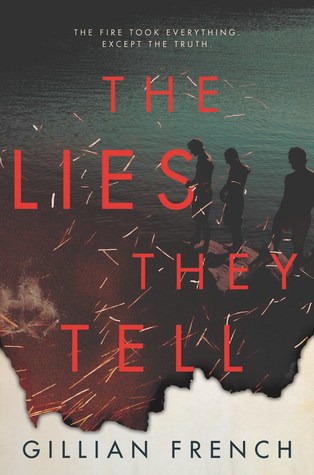 Release Date: May 1st
Everyone in Tenney's Harbor, Maine, has heard of the Garrison tragedy. A mysterious fire. A family of five reduced to one. For people like Pearl Haskins—whose dad was the caretaker of the Garrison property when the house went up in flames—the whispers about that night are more than upsetting. They hurt. With her disgraced father now trying to find steady work in between booze benders, Pearl is stuck waiting tables at the town's country club where the rich townspeople come in the summer to flaunt their money and gossip about one another.

This year, a group of privileged boys has made a point of sitting in Pearl's section—throwing careless insults her way while also attempting to flirt. Though she's repulsed by everything they stand for, she's drawn to the quiet leader of the pack, Tristan—the last surviving Garrison. He wasn't home the night a blaze took his entire family, and the sadness coming off him in waves is hard to ignore. Befriending the summer boys might irk her to her core, but inside their fold of elite parties and reckless whims could be answers to what happened the night of the fire. And that's just what she finds. -goodreads.com
Release Date: May 29th
The drought has discontented the bees. Soil dries into sand; honeycomb stiffens into wax. But Cynthia knows how to breathe life back into her farm: offer it as an artists' colony with free room, board, and "life experience" in exchange for backbreaking labor. Silvia, a wide-eyed graduate and would-be poet, and Ibrahim, a painter distracted by constant inspiration, are drawn to Cynthia's offer, and soon, to each other.

But something lies beneath the surface. The Edenic farm is plagued by events that strike Silvia as ominous: taps run red, scalps itch with lice, frogs swarm the pond. One by one, the other residents leave. As summer tenses into autumn, Cynthia's shadowed past is revealed and Silvia becomes increasingly paralyzed by doubt. Building to a shocking conclusion, The Honey Farm announces the arrival of a bold new voice and offers a thrilling portrait of creation and possession in the natural world. -goodreads.com
Release Date: May 22nd
As rumors about the cruel upbringing of beautiful newlywed Princess Cinderella roil the kingdom, her stepmother, Agnes, who knows all too well about hardship, privately records the true story. . . .

A peasant born into serfdom, Agnes is separated from her family and forced into servitude as a laundress's apprentice when she is only ten years old. Using her wits and ingenuity, she escapes her tyrannical matron and makes her way toward a hopeful future. When teenaged Agnes is seduced by an older man and becomes pregnant, she is transformed by love for her child. Once again left penniless, Agnes has no choice but to return to servitude at the manor she thought she had left behind. Her new position is nursemaid to Ella, an otherworldly infant. She struggles to love the child who in time becomes her stepdaughter and, eventually, the celebrated princess who embodies everyone's unattainable fantasies. The story of their relationship reveals that nothing is what it seems, that beauty is not always desirable, and that love can take on many guises.

Lyrically told, emotionally evocative, and brilliantly perceptive, All the Ever Afters explores the hidden complexities that lie beneath classic tales of good and evil, all the while showing us that how we confront adversity reveals a more profound, and ultimately more important, truth than the ideal of "happily ever after." -goodreads.com
Release Date: May 29th
From the #1 New York Times bestselling author of In a Dark, Dark Wood, The Woman in Cabin 10, and The Lying Game comes Ruth Ware's highly anticipated fourth novel.

On a day that begins like any other, Hal receives a mysterious letter bequeathing her a substantial inheritance. She realizes very quickly that the letter was sent to the wrong person—but also that the cold-reading skills she's honed as a tarot card reader might help her claim the money.

Soon, Hal finds herself at the funeral of the deceased…where it dawns on her that there is something very, very wrong about this strange situation and the inheritance at the center of it.

Full of spellbinding menace and told in Ruth Ware's signature suspenseful style, this is an unputdownable thriller from the Agatha Christie of our time. -goodreads.com
Release Date: May 1st
The Winter Solstice. In a week. I was still new enough to being High Lady that I had no idea what my formal role was to be. If we'd have a High Priestess do some odious ceremony, as lanthe had done the year before. A year. Gods, nearly a year since Rhys had called in his bargain, desperate to get me away from the poison of the Spring Court to save me from my despair. Had he been only a minute later, the Mother knew what would have happened. Where I'd now be. Snow swirled and eddied in the garden, catching in the brown fibers of the burlap covering the shrubs My mate who had worked so hard and so selflessly, all without hope that I would ever be with him We had both fought for that love, bled for it. Rhys had died for it. -goodreads.com
Are any of these books on your TBR? Are there other books coming out this month that you are excited about?